Radial Head Drifter, Blister (Asymmetrical Cruising Spinnaker)
Any sailor is exposed to a wide variety of wind conditions. One day the wind is blowing a stiff breeze, the next it's a whisper. For that reason the Cruising Spinnaker (Figure A) is a very useful addition to the inventory of the average cruising yacht. It's the easiest to use requiring no pole or separate halyard and is surprisingly affordable. A launching and dousing sock is optional but recommended.
We can also make this sail in Star-Cut designs. We called it the Star Blister.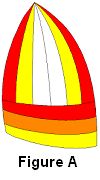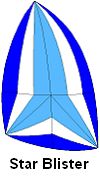 Click here to see our Radial Head Drifter brochure in pdf format